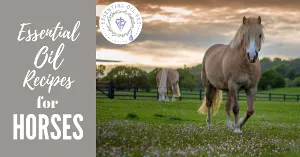 Essential Oil Recipes for Horses – Online Class
Essential Oils to help address your horses daily needs, such as:
Pest Repellent and Bite Relief

Mane Care

Muscle Tension Relief and Support

Hoof Health

Electrolytes and Metabolic Support

Happy Hormones and Energy

Aromatherapy Techniques
Plus tips, recipes, and much more!
Enroll Now
By enrolling in one of Dr. Roark's self-paced courses, you will have full access to the course with no expiration date. Self-paced courses are great for learners that love to see details in writing and want to be able to refer back to them again and again. Please note: This course does not contain any videos. If you prefer video learning, be sure to check out the webinars!